Ok so remember how I got that Marc by Marc bag (that I still absolutely j'adore by the way!)? Well you'd think that I would calm down a little bit with the uber spending on handbags, especially considering how much I had to shell out to Monsieur Jacobs. 

Think again.
Went to Napa over the weekend, to celebrate my brother's 35th birthday. I know, my bro and Napa - kinda random pairing right? Blame it on my mama. So after we dined at Julia's Kitchen (delish!), we decided to hit up the outlets real fast. Bad idea. Seriously, I had NO intention of buying a bag when I stepped through the doors of the Coach outlet. Seriously, no intention. I was so close to walking out the door empty-handed, but something pulled me to the corner of the store where a bunch of random bags were sitting. And then I spotted it, hiding behind some suede fringe hobo's........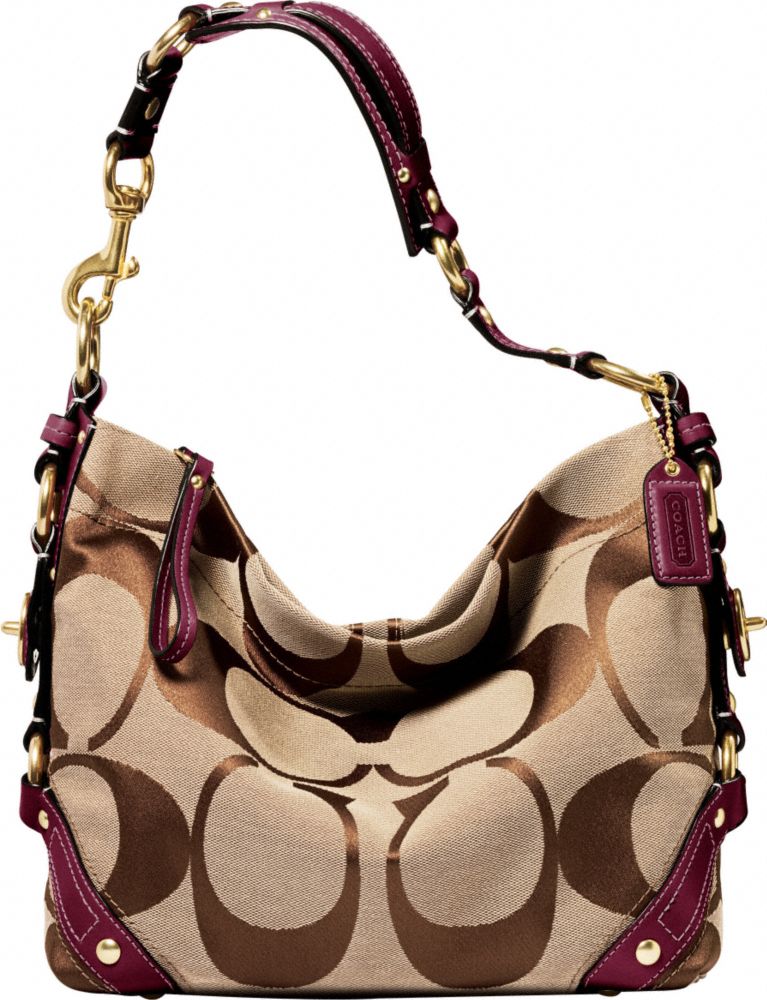 The Carly Signature in khaki logo print w/ plum trim.
So cute. So perfect. I'm usually not a fan of Coach's logo print on handbags, but seeing it blown up like that just did it for me. Kinda like the
oversized LV print
that I was raving about a few months back. The pic just doesn't do it justice because I remember seeing this style on Coach's website and I didn't think much of it.  But seeing it in person and trying it on is a whole other story.
But remember how I was just talking about needing a brown hobo?  Well, this wasn't exactly what I had in mind but it fits the bill (in other words, I'll probably still end up getting an all brown, all leather hobo somewhere down the line, so don't be surprised!). Plus I don't have an everyday tan/brown bag. Plus I don't have an everyday-use Coach bag (thanks to my mama swiping my black bag! Dang, that's 3 shout-outs to my mom in just one day!). Anyhow, I'm out of excuses/reasons/rationalizations for my purchase. I'm happy with it and that's all that matters to this bagaholic. :-)