i've had these fashion items bookmarked to blog about for like two weeks. now they kinda old news but whatever.
chanel mobile art exhibit in nyc
oct 20-nov 9
rumsey playfield, central park
now this is an oversized handbag, my friends - 
i'd totally live inside there.
let's go back in time and
re-visit some of his memorable fashion moments
. he took it to a whole other level just a few short years back when he chopped his hair off and ditched the square frame glasses. nymag left off one of my fave marc moments though. at last year's mj holiday party. dressed as a.......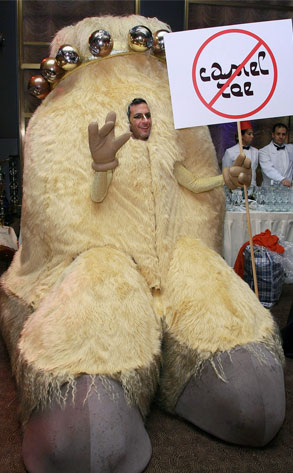 camel toe!
this is sure to be a great collabo. according to wwd and
ny mag
, sofia coppola's been tapped to design a shoe and handbag line for louis vuitton. boy, being one of marc jacobs' bff's sure has its perks!
i was kinda shocked (but also excited) to hear that she decided to go the chain department store route. what a leap from doing a diffusion line at urban.  the jcp line will be called i [heart] ronson.  according to wwd,
"Targeted towards the 21 to 35-year-old woman, I [Heart] Ronson will be priced at the store's better tier, ranging from $15 for layering T-shirts and tanks to $26 to $44 for blouses, sweaters and jeans to $40 to $65 for dresses and jackets. In contrast, Ronson's contemporary line for department stores wholesales from $70 to $130."
can't wait to see how the collection shapes up. got high hopes, but i must say playing in the chain department store channel when you're coming from a higher end background could be challenging. 
oh did i ever mention how i tried on sarah jessica parker's bitten line?  oy, what a tragic disappointment. guess you can't expect much when you're dealing with a steve and barry's. the fabrics were poor quality. the cuts of the shirts were totally off. even on a skinny chick i don't think these items could have worked. i thought i'd find at least one item, even if it were a basic, to bring to the register. sadly, no.
we're only a few short weeks away until the comme des garcons for h&m line is released in (only 5 cities in) the US! the powell street store is the only one in northern california that will carry the line and i know it's gonna sell out in an instant, as do all these guest designer lines. i'm gonna need to make some h&m friends fast!
take a sneak peek at the line
here
key pieces - belted trench, off center zip jacket
not sure if i'm feeling all the unaligned/deconstructed items and the harem pants (aka the hammer pants)
disappointed in the handbag but curious to see the navy w/ white polka dot wallet
SF's own upper playground opens shop in nyc
i look forward to checking out the east village shop on my next nyc excursion (possibly in the spring time, if anyone's down)
hooray for (the end of) heidiwood!
anchor blue gave heidi's
ho bag of a clothing line
the boot!!  thank you lord for not subjecting the fashion world to another season on this monstrosity! back to whoring out for the paparazzi! or working for bolthouse! oh wait, by the looks of next week's episode of the hills, it looks like her ass might be canned!  yeah, it's probably a fake firing to help save brent bolthouse's "image" and distance himself from the show, which is clearly going downhill. nevertheless, i'm sure it will still be entertaining as heidi sits there, with a blank look on her face, not understanding why she's getting fake fired from her fake job.